Ramen is one of my favorite things to eat. I've said that I could probably eat ramen every day. I've changed my mind on that. While I like eating ramen (and other food), I've never gotten really nerdy about food.Andy Greenwald does a much better job explaining that New York has too much tonkotsu. I should appreciate what we've got available. It was good to try different kinds of ramen.
Ichiran: We had one of the more interesting eating experiences at Ichiran. There are a few locations and we went to the one in Roppongi. You get a tickets from a vending machine (not as novel as the first time, but always fun) and then sit in booths. Each booth faces the kitchen, but there's a curtain with a small opening at the bottom. So you can see torsos moving but not much else. If you're a tourist with no idea what to do next, someone will duck down to explain how things work. Very friendly. I can completely see how regulars can go through without speaking at all. Select noodle type, richness, spice-level, other toppings, and you're good to go.
Rokurinsha: I wrote about this in my As Seen on TV post. Really enjoyed this place. Completely worth the wait (about 25 minutes in our case). There was food I enjoyed but knew I could get about the same in New York. This wasn't on that list. The broth is exceptional. They only serve tsukemen. Most New York ramen places offer it but don't specialize in it.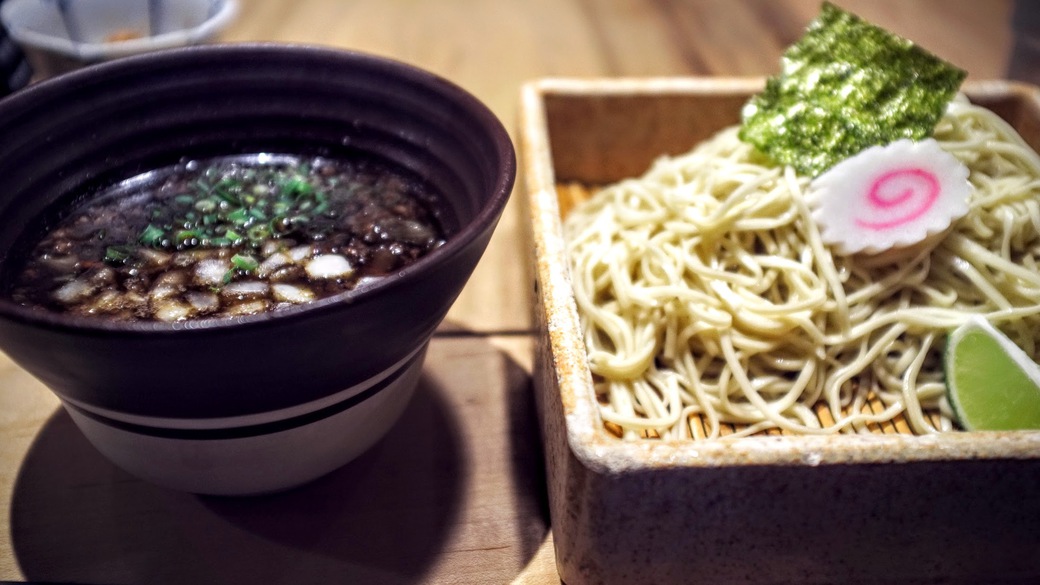 Gyogo: Most photogenic of the bunch is the burnt ramen from Gyogo in Kyoto. Their specialty is burnt ramen. I know some other ramen places do burnt leeks for flavor in their ramen, but Gyogo broth comes out nearly pitch black. It doesn't taste as burned as I expected based on the color. Tasty though. We ordered some of their pork belly. Reminds me of the best parts of tocino without being overly sweet. Really worth trying.