"Too late."
Auction
Huh? It was 3am, it couldn't be too late.
"Fish? Fish market? It's too late."
I guess it was too late. We didn't get into the tuna auction. That's one thing. 3:15 wasn't early enough. Not even close to early enough. That might be because the market is closing and moving so people are really trying to visit in its current location. Still, there's a ton to see later in the morning. Or when morning starts, because 3:15am is still the middle of the night to me. That's the kind of time when I wake up and think about all the spooky things about 3am and then go back to sleep.
We thought about going the following night, but there was always the chance that we wouldn't get in again. Planning around something where you have to wake up at 1:30am and actually head out can really put a wrench in a schedule1. We decided not to go.
Outer market
There's an outer market with plenty to see. I think if you plopped the outside market somewhere else in Tokyo or any other city in the world, it'd get a good amount of traffic. I bet the more oblivious visitors have no idea there's an inner market, because this was cool to see on its own. Lots of vendors. Meaning lots of different things to eat.
The first thing we tried was grilled scallop. We walked into the market and saw a woman grilling skewers with scallop topped with sea urchin. The contrast in texture is nice. Though uni probably contrasts with everything that's not a sauce texture-wise.
Some kind of squid roll with cheese inside: I mean, if you like squid and you like cheese this is going to be a hit.
Mochi stuffed with various fruits: Not exactly a seafood market exclusive but still good for my mochi craving. I went with strawberry.
I went back to get another one of the scallop and uni things. on the way there we saw a couple people doing something where there was a crab shell with a scallop with an oyster with fish roe and also crab miso2. they take all of that and then they blow torch it.
Tamago on a stick: I wish I tried this. I don't know if that's really what they refer to it as. but there was definitely a long line for this. When we walked by it we were on our way out and, more importantly, stuffed to the brim.
The actual market
We figured out that the actual market is past a gate. It looks shrunken aircraft hanger, especially with all the different vehicles moving around. In the somewhat open lot in front of the market, scooters go by you in all directions. Then there are these things that look like a person is standing and steering a keg. Like a flatbed keg. You gotta stay alert.
With it being such a tourist hot spot, it's easy to forget that so many people are actually working. The inner market still functions as a place for professionals to buy fish more than a place for tourists to buy their souvenirs.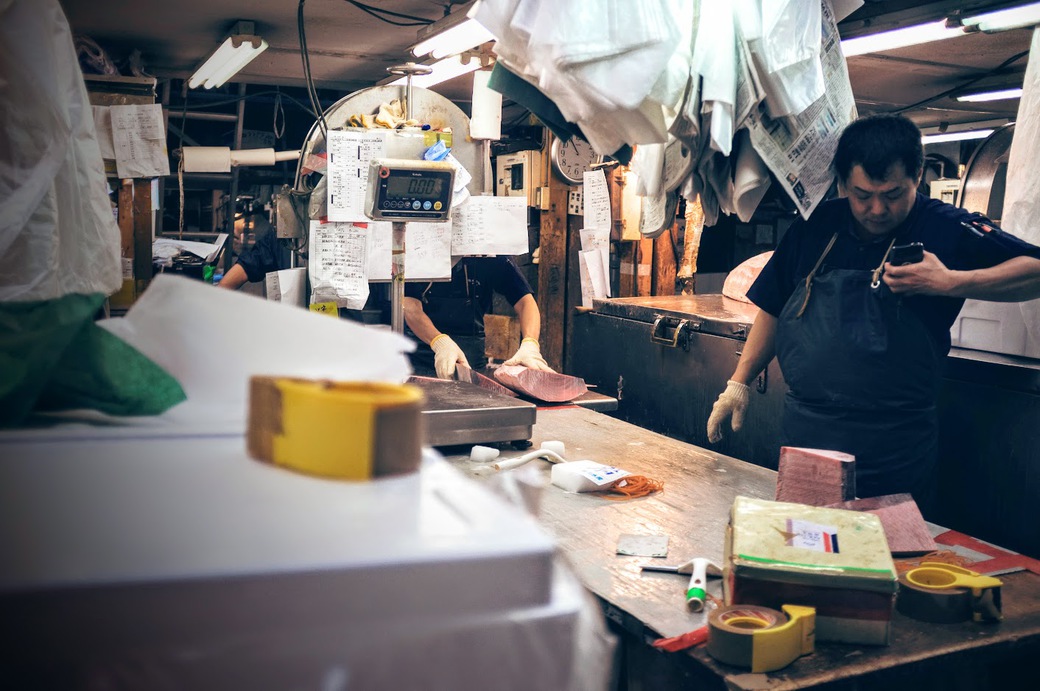 Right outside the hangar, type building (but still inside the gate), there are about half a dozen long buildings and each of them has probably 8 restaurants and almost all of these serve sushi. Almost exclusively between 6am and Noon. Breakfast sushi.
You could spend a few mornings here no problem. Especially if you enjoy photography. Everything is photogenic.
I've seen pictures of the tuna and read how much they weigh and thought I had a good sense of their size. Walking around, I saw pretty big chunks being cut up and was starting to get a better sense of scale. Then I almost bumped into a tuna head on the ground and thought I was seeing some kind of mistake. The thing was huge. Its body probably was being cut into huge blocks and then into medium blocks then smaller all the way down to a small slice sitting on a ball of rice.
Walking around was like seeing one of your omakase meals getting it scaled up to Costco size. Along with the tuna, your single slice of geoduck turns into a seafood sausage shop. That piece of uni turns into rows and rows in a big wooden box that seemingly retires as a pencil container at Muji. That mussel gets some HGH (as muscles are wont to do) and turns into a shell bigger than my head. Then there are crabs of all sizes with all sorts of shell patterns I've never seen. Your plate of grilled squid has been enlarged to cover a dining table.
It was too late to get into the auction but just in time to see something incredible.
Plus the auction is supposedly twenty minutes. I realize that if I got in I'd probably say, "Best 20 minutes ever." I'm being a hater. ↩

Crab miso has nothing to do with miso soup. It's crab fat or crab innards or crab mustard or crab guts. Whatever you prefer to call it all I care about is that I prefer eating it. Just about perfect. ↩